Maťo
"Hi there! I'm Mato Homola, and I'm a racer competing in TCR Eastern Europe with Janik Motorsport, driving the Hyundai Elantra N TCR. It's truly a dream come true for me, and I'm grateful to have you as part of this incredible journey. Remember, never give up!"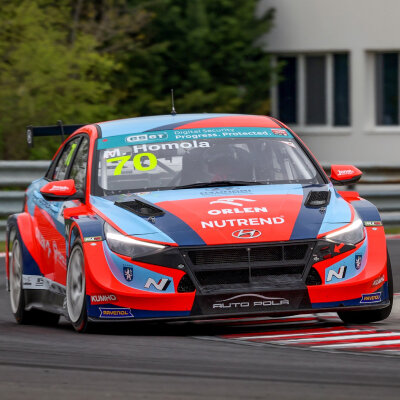 2023 TCR Eastern Europe & Hyundai Elantra N TCR
In 2023, Maťo Homola embarks on his third season with the Czech team Janík Motorsport. He will once again be behind the wheel of the victorious FIA WTCR car – the Hyundai Elantra N TCR, which both Maťo and the entire team have experience with from the previous season. Maťo will be participating in the TCR Eastern Europe championship, taking place on circuits near Slovakia. This presents a wonderful opportunity for fans to come out and support Maťo directly at the track. The icing on the cake will be the home race at Slovakia Ring in June, where we anticipate a tremendous turnout of fans and an electric atmosphere.
---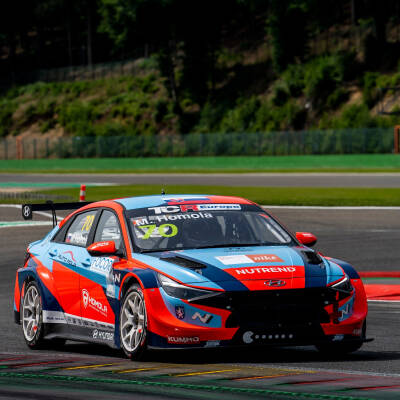 2022 TCR Europe & Hyundai Elantra N TCR
Maťo's fourth season in TCR Europe was defined by cutting-edge technology, and the new weapon of choice was the Hyundai Elantra N TCR from Hyundai Motorsport. Once again, Maťo teamed up with the Czech squad Janík Motorsport. Despite a somewhat hesitant start, Maťo achieved an outstanding 2nd place at the iconic Spa-Francorchamps circuit. Unfortunately, a wrist injury during the season necessitated surgery, forcing Maťo to sit out the final two TCR Europe events.
---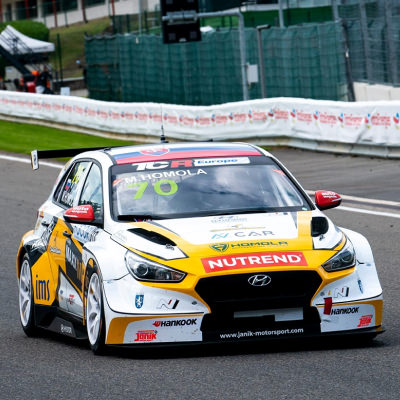 2021 TCR Europe & Hyundai i30 N TCR
At the end of 2020 season, there was an idea to create a Czecho-Slovak team to compete in TCR Europe. Mato Homola has joined forces with his engineer engineer Jaro Krajci and a Czech team Janik Motorsport. The first part of 2021 season was troublesome due to a bad BOP, but the second part has seen a great win at Monza and a second place at Spa-Francorchamps.
---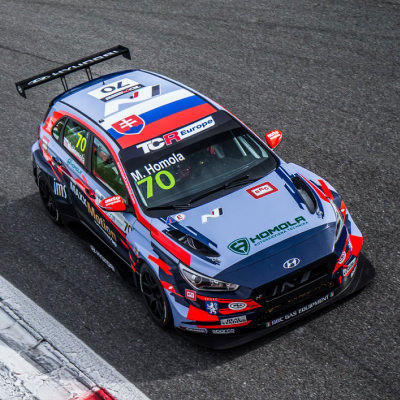 2020 TCR Europe & Hyundai i30 N TCR
After the first season in the most successful TCR car – Hyundai i30 N TCR, Mato switched to BRC Racing, a FIA WTCR team. After a number of podium finishes and fastest Hyundai qualifying sessions, Mato finished on P7 in the overall standings.
---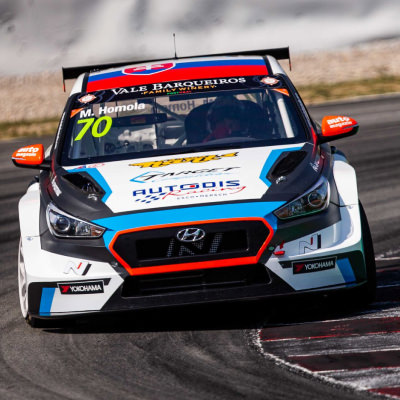 2019 TCR Europe & Hyundai i30 N TCR
After FIA WTCR budget requirements increased and a number of factory race seats got very limited, Mato Homola made a decision to join TCR Europe with a goal to win it. To achieve this goal, Mato will drive the best TCR car – Hyundai i30 N TCR in Italian team Target Competition. Jaro Krajci returns as his Race Engineer. Additionally, Mato became an ambassador for Hyundai N in Slovakia.
---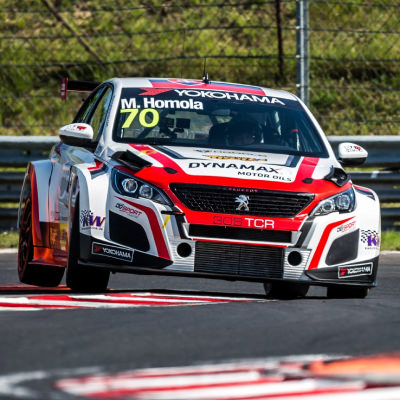 2018 FIA WTCR & Peugeot 308 TCR
In 2018, the world largest touring car series (FIA WTCC and TCR International Series) merged to create FIA WTCR (FIA World Touring Car Cup). Mato Homola, as the only race driver from Slovakia, joined this elite championship with a full race grid of 26 race drivers. He represented Slovakia on the World Championship level, with Peugeot 308 TCR in Belgian DG SportCompétition, with semi-factory support from Peugeot Sport. The highlight of the season was FIA WTCR 2018 Race of Portugal, where Mato won a race ahead of 4-times World Champion Yvan Muller. In the overall FIA WTCR results, Mato finished on P18.
---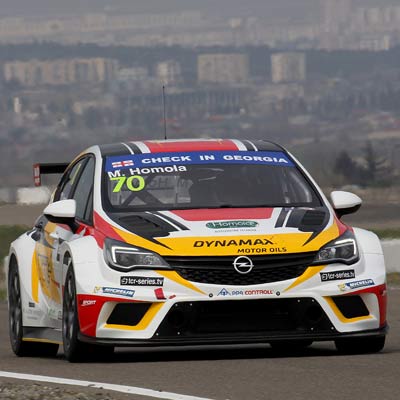 2017 New challenge in TCR with Opel Astra OPC TCR
After a successful 2016 season in TCR International Series, where Mato finished 5th, the pool of offers for Mato's 2017 season got big. After considering all options and offers, the decision was to take part in TCR with a successful Belgian race team DG Sport, which has a direct factory support from Opel Motorsport and Kissling Motorsport.
---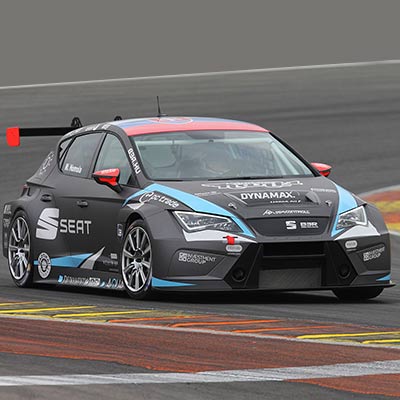 2016 TCR & SEAT Leon Cup Racer TCR
In 2016, Mato joined the world championship. After one time appear in WTCC in 2015, Mato and his team decided to enter in 2016 a progressive championship with great race driver – TCR International Series. Mato will race in 11 countries around the world, from which 3 races will take part during Formula 1 Race Weekend. Very exciting time.
---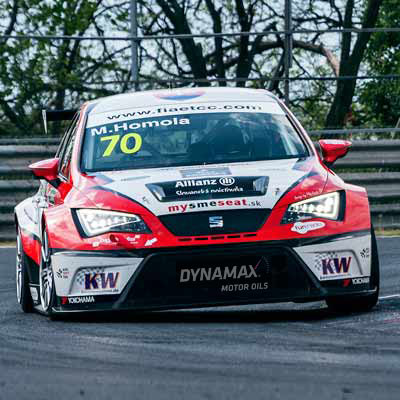 2015 SEAT Leon Cup Racer
In 2015, Team Homola Motorsport has joined SEAT Slovakia, therefore Mato Homola will drive SEAT Leon Cup Racer with 2-litre turbocharged engine with 330 PS. Mato, as ambassador of SEAT in Slovakia, will compete in FIA ETCC in Single-Make-Trophy category with an option to race in other racing series.
---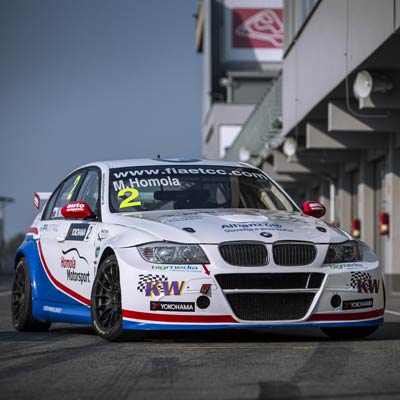 2014 New BMW 320TC WTCC
In 2014, Team Homola Motorsport with Mato Homola bought better and quicker car from WTCC 2013 – BMW 320 TC WTCC. This car helped Mato to get his second overall win in FIA ETCC 2014.
---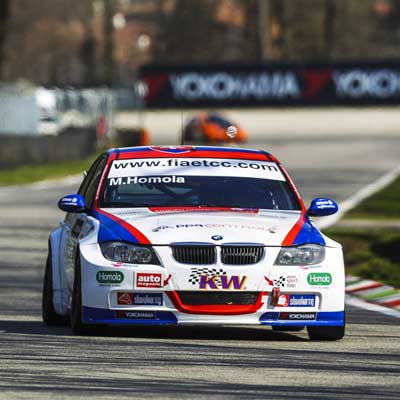 2013 2nd in FIA ETCC
In 2013, Mato Homola with the Team Homola Motorsport completed his first full FIA ETCC season with BMW 320si WTCC. There weren't any huge expectations in the begining of the season. Three race wins, four 2nd places in a season proved that young talented Mato is very strong in very competitive championship – FIA ETCC. He managed to fight for the Championship Title until last race in Brno, where he became "vice champion" of FIA ETCC in S2000 class in 2013 season. This great result and season gave Mato many experience and huge motivation for 2014 racing season.
---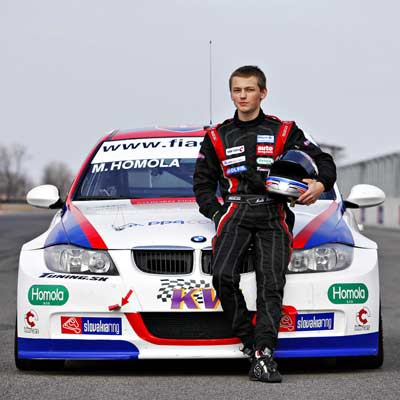 2012 BMW 320SI WTCC
In 2012, Team Homola Motorsport bought the fastest WTCC car with 2-litre aspirated engine, BMW 320si WTCC. Mato, as the first race driver from Slovakia, entered the FIA ETCC championship. At the first event, on hometrack at Slovakia Ring, Mato claimed twice 3rd position. It resulted in 3rd place overall and Mato was first Slovak driver who stood on FIA ETCC podium. During another event in Salzburgring Mato had serious problem with engine and so the team made a decision to continue in Slovak Circuit Championship, where Mato finished 2nd overall in class under 2000 ccm.
---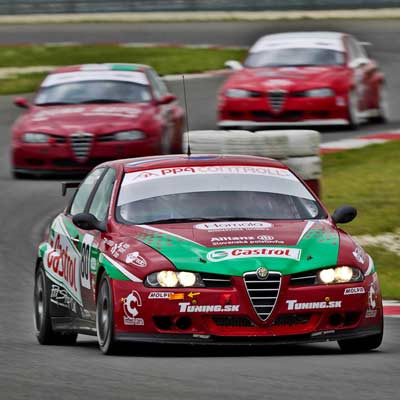 2011 Dominated in car racing
In 2011, Mato completely dominated in Slovak Circuit Championship in D4 up to 2000 ccm class as well as in FIA Central European Zone Circuit Trophy. With Alfa Romeo 156 WTCC he managed to score many victories and with many points he became the youngest Slovak Champion in D4 up to 2000 ccm. In November 2012, Mato went to Sarajevo, where he got the price trophy from the hands of FIA President, Jean Todt, as champion of FIA Central European Zone Circuit Trophy (up to 2000ccm class).
---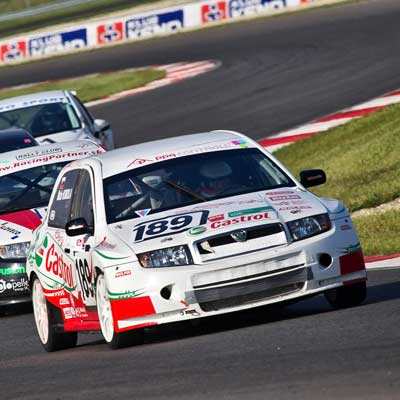 2010 Car Racing
In 2010, after a few car racing testing days, Team Homola Motorsport decided to enter Slovak circuit championship with 16-years old Mato Homola and Skoda Fabia 1,4 Kit Car. Even though, Mato completed only the second half of the session, it was enough to claim overall 2nd place in class under 1400 ccm. After this success, the team completely shifted from karting towards car racing, and that was a great move!
---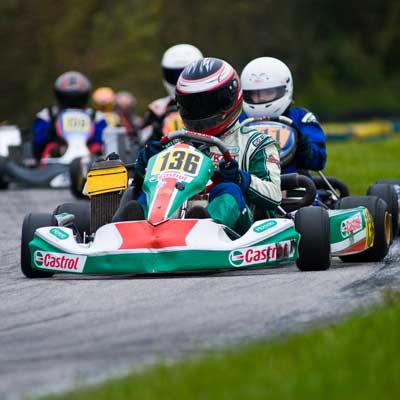 2008-2010 Karting
From 2008 till 2010, Mato was racing in Slovak and Czech Karting Championships. Mato was 14 when he started with go-karts, what was considerably quite late when comparing with his competitors, who were racing sice they were 7. But Mato was learning very quickly and his talent couldn't be unnoticed. With stronger competitors every year, Mato finished every year on 5th place overall in Rotax Max Junior class. Mato learned a lot in karting, and he was ready to use his hands-on-experience in car racing.